Ingredients
4 cups stoneground bread flour
1 1/2 teaspoons dried yeast
3 tablespoons olive oil
1 1/2 teaspoons salt
1 1/4 cups hot water
FOR THE PESTO
2 cups packed fresh basil leaves (about 3 ounces of 2 large bunches)
1/3 cup raw pine nuts, almonds or pecans
1/4 cup grated Parmesan cheese
1 tablespoon lemon juice
2 cloves garlic, roughly chopped
1/2 teaspoon fine sea salt
1/2 cup extra-virgin olive oil
FOR THE TOPPINGS
1/3 cup sweet piquante peppers, diced
1 cup grated mozzarella
Rosemary
Instructions
To make the flatbread dough, mix the dry ingredients together in a bowl and form a well in the middle. Combine the liquids and pour into the well.
Slowly stir to combine all ingredients until a soft dough forms. Cover the dough with a clean dishcloth and set aside for 20 minutes.
Dust a surface with flour and kneed the dough for a couple of minutes.
Place it back into the bowl, cover and rest again until it doubles in size (approximately 2 hours).
Place the dough back on a floured surface and kneed again. Shape into 2 flatbreads (or more if you prefer smaller sized flatbreads).
To make the pesto, combine the basil (keep a few leaves aside for serving), nuts/seeds, Parmesan, lemon juice, garlic and salt in a food processor or blender. With the machine running, slowly drizzle in the olive oil. Continue processing until the mixture is well blended but still has some texture, pausing to scrape down the sides as necessary.
Spread pesto and diced peppers over the flatbreads, then cover with grated mozzarella cheese.
Preheat the

Megamaster 6 Burner Gas Grill

to medium heat.
Place flatbread on the grill and cook with the lid closed until the cheese is melted.
To serve, sprinkle basil leaves and rosemary on top.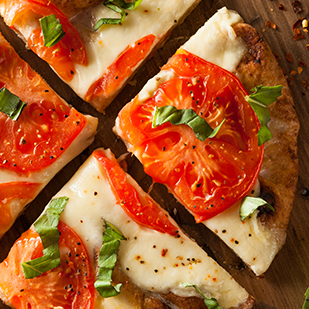 Tip 01
This grilled flatbread recipe allows for endless varieties as you can use anything you like as a topping. Start with your favorite pizza toppings and take it from there!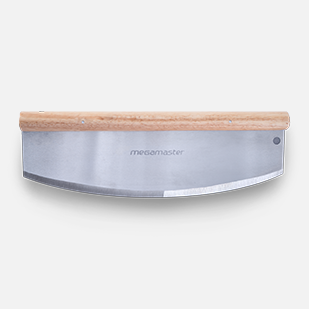 Tip 02
For easy serving and eating, slice the grilled flatbreads using our handy Megamaster Stainless Steel Rocker-Style Pizza Cutter.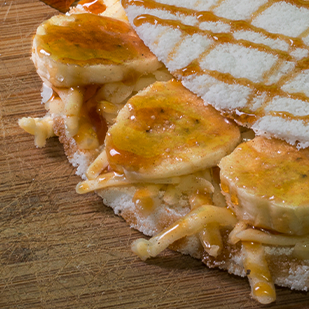 Tip 03
Time for a decadent dessert? Dry roast a flatbread and top with caramel, cream, syrup and banana.